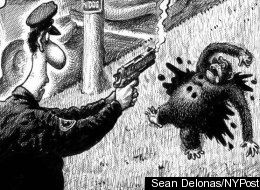 As reported the the Huffington Post, a cartoon likening the author of the stimulus bill, perhaps President Barack Obama, with a rabid chimpanzee graced the pages of the New York Post on Wednesday.
The drawing, from famed cartoonist Sean Delonas, is rife with violent imagery and racial undertones. In it, two befuddled-looking police officers holding guns look over the dead and bleeding chimpanzee that attacked a woman in Stamford, Connecticut. "They'll have to find someone else to write the next stimulus bill," reads the caption.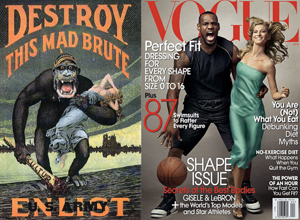 AAPP: Oh, not again, more ignorance by the media, but this time they go violent. So... Barack Obama is a Monkey, and he should be, what, New York Post editors? Thank god there are Black voices and many other voices across the blogosphere and afrosphere who are outraged at the offensive New York Post 'Shoot The Monkey' Cartoon.
Shawn Williams at Dallas South Blog says, I see plenty of evil in New York Post cartoon. But Shawn is not the only afrospear blogger seeing the evil. Blogger Villager, at Electronic Village is covering how the racist cartoon infers Barack Obama is a monkey. Pamela on politics asks, Is the N.Y. Post Calling Obama a Monkey? Brother Field Negro is also covering this issue. Blogger, Francis L. Holland is concerned about this issue as well. He goes as far as to say, "As we all have learned over the last years, there are vast and loosely organized national and international networks of persons who communicate by code to inspire, organize, and incite terrorist attacks, including assassinations of world leaders. Their goal is both to create a climate of fear and intimidation wherein their voices will be taken more seriously and also to effectuate terrorist attacks. Among these terrorists was Timothy McVeigh, who destroyed a Federal Building in Oklahoma." Francis is calling for the New York Post cartoon to be closely analyzed by U.S. Government specialists. More HERE
UPDATE: H/T to Casey Gane-McCalla for his recent article/post on the top 10 most offensive New York Post cartoons - More HERE. Also H/T to Baratunde over at Jack and Jill Politics for his post on the connection between blacks as apes and police brutality.
AAPP: Based on these offensive cartoons, I would place the NY Post and Sean Delonas as part of a nation of cowards. Big H/T to Attorney General Eric Holder said Wednesday that despite advances, the United States remains "a nation of cowards" on issues involving race. Here are excerpts from Atty Gen Holder's remarks on race.
The bottom line is, the cartoon is color aroused , bigoted and some would call cowardly. Yes, Eric Holder's speech on race was right on the money, even though some like the American Thinker are ignorant, to the fact. No one, at least in America's Black communities are laughing.

The cartoons and the color aroused bigorty and racism is just not funny.
More HERE