All the news media outlets are all hyped up about the breaking story of Laytoya Jackson saying that Micheal Jackson was murdered. The LA Times is running a story, LaToya Jackson believes Michael Jackson was murdered. Do you?


Speaking out: La Toya Jackson says she wants to expose the truth
While CNN is reporting that LaToya Jackson makes stark allegations. Now we learn that Joe Jackson will have an exclusive interview regarding the death of his son Michael Jackson. But hey, they are not saying anything new, remember I asked the question, was Michael Jackson killed like MLK and Malcolm X?


Some media outlets are reporting La Toya Jackson was accused of sour grapes yesterday after she attacked Jacko's comeback tour organizers. Get this, one report says that Michael's sister, who will lose out on millions because she is not in the Jacksons' forthcoming shows, slammed promoters behind the original 50-date stint at the O2 arena. La Toya did not name anyone but she said:" They worked him so hard. A lot of people are responsible for this, directly or indirectly."
A source close to AEG Live told the Mirror:" La Toya is not involved in the shows. It all smacks of sour grapes. " Michael was going along at Michael's pace. He was not overworked at all. This is total nonsense." All of this while Joe Jackson says Michael 'could never have completed' the O2 dates. More HERE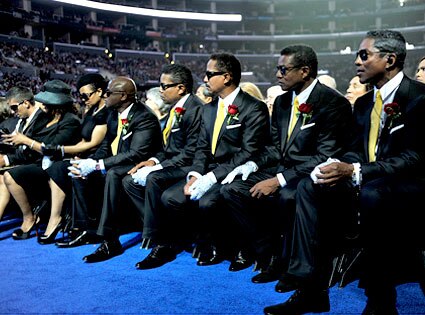 Let's hope the Jackson's stick together during this time in which the the possible murder of
Michael Jackson is investigated.