Remember how the
LA Times
,
the Washington Post
, and other newspaper said,
Los Angeles blacks voted against gay marriage
? Remember how some people said,
Blacks should be ashamed of voting against gay rights ?
You remember the
big debates
about
Obama and Gay rights
even within the black community - right?

Well, check this out. In the fight against prejudice and bigotry in the world, it appears that the Obama administration is pitting Lesbian, Gay, Bisexual and Trans Rights

"VS"

Racism. And it appears that Gay Rights wins hands down.
Top Priority
Gay Right?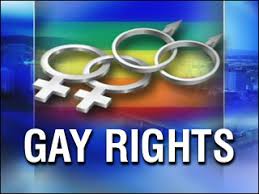 Low Priority? Black Rights?

OK don't hate on me for pointing it out. It's true.

I guess the gay rights community had a better lobbying group than black folks. Now before you get started on me, I agree with
calling for the worldwide decriminalization of homosexuality. Yet, I do have some concerns.
MSNBC reports The Obama administration will endorse a
U.N.
declaration
calling for the worldwide decriminalization of homosexuality that then-President George W. Bush had
refused to sign
, The Associated Press has learned.
U.S. officials said Tuesday they had notified the declaration's French sponsors that the administration wants to be added as a supporter. The Bush administration was criticized in December when it was the only western government that refused to sign on.
Yet the Barack Obama administration, as reported by the The NY TImes, will not attend the second World Conference Against Racism in Geneva unless the conference's main document improves, according to a State Department official.
The NY TImes, reports the long, unwieldy document seeks to ban criticism of religion, calls for slave reparations and attacks Israel as racist. Israel and some American Jewish groups urged a boycott of the April conference, and several close American allies, including Canada, said they would not go. The United States walked out of the first Conference Against Racism, in Durban, South Africa, in 2001, as a protest against an effort to compare Zionism to racism.



I guess the Obama administration will have to decide whether it's stands against color aroused bigotry and racism or will it stand with Israel, Canada and Italy who have announced they will boycott the forum in Geneva. Let's talk about this and other issues tonight on the AAPP's Political Slugfest.
http://tinyurl.com/5ezvtp


http://tinyurl.com/cv757s

Let's see how quickly the new administration
signs a document calling for the worldwide end of bigotry, racism and
a review of slave reparations in the United States and abroad.



Am I off base? Thoughts anyone? Lets have a real conversation about race, or are we
a nation of cowards on color arousal and/or racial matters
?