As reported on BET News.com and USA Today, The nation's historically Black institutions, often lauded for the job they do in graduating African-American students, are doing a worse job conferring degrees than their traditionally White counterparts, according to a new survey by The Associated Press.
Black colleges and universities, most of which were founded shortly after slavery to provide newly emancipated Negroes a leg up in a rapidly advancing society, have long graduated a disproportionate number of Black students. Black-college officials, alumni and students have pointed to the campus' nurturing environment and emphasis on graduation and job preparation as the reason historically Black colleges and universities have tended to have a much higher success rate.
But the AP survey has shattered the image of the high-yielding Black institution.
The news agency's analysis of the 83 federally designated four-year HBCUs shows that just 37 percent of Black students earn a degree within six years – roughly 4 percent lower than national college graduation rates. Perhaps the biggest reason for such dismal Black-college graduation statistics, reports AP, is the performance of Black male students, just 29 percent of whom complete their bachelor's within the six-year period. While a few Black institutions – such as Howard University, and at Spelman and Morehouse colleges – graduate more African-American students than traditionally White campuses, many others are among the worst-performing colleges in America, according to the analysis.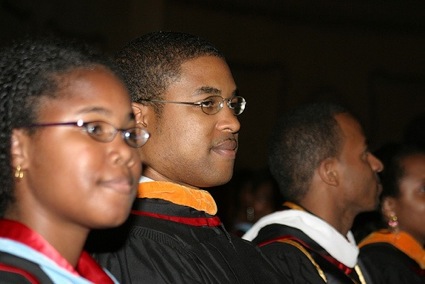 "At 38 HBCUs, fewer than one in four men who started in 2001 had completed a bachelor's degree by 2007, the data show. At Texas Southern, Voorhees, Edward Waters and Miles College, the figure was under 10 percent," AP reports. More HERE
AAPP says: The bottom line is, black men are struggling to succeed at historically black colleges. It's interesting that the Obama "Stimulus Plan" had no real plan to stimulate HBCU's.

I guess the latest recession casualty will be Historically Black Colleges.