McCain's same policies as Bush dragging him down
Poll Shows Obama Beating McCain
Source: Alaska report.com

According to a new Gallup Poll, Barack Obama is now leading John McCain by 6 percentage points, the largest margin to date.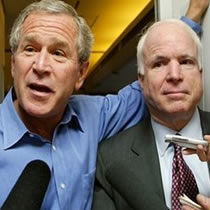 Obama leads 48% versus 42% against McCain. Gallup reports that the Illinois senator's lead has held steady at five to seven percentage points since effectively claiming his party's nomination.
Obama's recent lead over McCain represents the Illinois senator's best showing against his new rival. Obama and McCain have mostly been polling at a statistical dead heat against one another in the Gallup tracking poll's general election match-ups.