Carrie Buddoff Brown at Politico.Com is reporting on how Democrats expect a concerted effort to cast Michelle Obama — and, by extension, Barack Obama — as an unpatriotic radical. She reports, "It's less than a week into the general election campaign, but already Michelle Obama is a Republican target.
Former Secretary of State Lawrence Eagleburger leveled the first blow, introducing Republican John McCain's wife at a fundraiser this week as someone who is "proud of her country, not just once but always." Obama wasn't mentioned by name, but the audience got it.
The dig signaled the start of what Democrats expect will be a concerted effort to cast Michelle Obama — and, by extension,
Barack Obama
— as an unpatriotic radical. It also pointed out the urgency to define Michelle Obama to general election voters before the opposition goes too far in doing it for her, strategists said."
More HERE
AAPP: I had the opportunity to discuss this and other issues on News & Notes Bloggers Roundtable at NPR. I join in the conversation with Valencia Roner of Diary of a Content Black Woman, and Jay Anderson of Average Bro. They are great bloggers, check them out.
We talked about
the Barack and Michelle fist bump heard 'round the world to Spike Lee and Clint Eastwood's battle over Iwo Jima to Obama's place in a post-race society, and other issues.
Listen Now
[13 min 15 sec]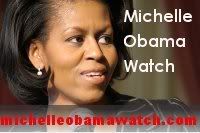 Don't forget to check them out
what about our daughters another great blog, now tracking Michelle Obama on the positive tip.