AAPP: CBS News has a great article on
how Obama won
in South Carolina last week. The reason was not because of Color Arousal. It was because of his message of
Change.
A message that Democrats and Republicans have unsuccessfully attempted to high jack. Now the CBS heading says Why Obama Won, which seemed a little odd to me, I would have said "How" vs "Why" I guess that is a bias thay have in reporting positive news about a black man. But anyway, check out the article that exposes:
How, and
why Obama won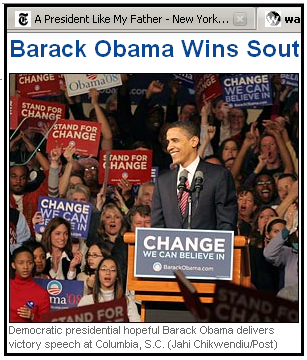 Source: CBS News
W
hy Obama Won
While the political pundits may label the South Carolina win by
Barack Obama
as all about race, exit polls demonstrate that the truth lies a little deeper. In many ways Obama's win was similar to his early victory in the Iowa caucuses. Increased turnout, specifically among the young and new voters, and a desire among voters of all colors for needed change helped him to a resounding win.
The Voters
In an election year that has repeatedly seen record-breaking turnout in Democratic caucuses and primaries, South Carolina was no exception. For Barack Obama, those who boosted the turnout in Saturday's primary were part of the key to his victory.
Four in every ten voters Saturday were under the age of 45, up eight points from their share of the electorate in 2004 when they were 32 percent. Among these voters, Obama won 64 percent of the vote, compared to the 55 percent he received among those 45 to 59 and the 38 percent among voters 60 and older.
Among those at the polls on Saturday were a new crop of voters - 27 percent reported that this was either their first vote ever, or their first primary vote. Here again, Obama carried the day. He won 63 percent of the vote by first-time voters, and 57 percent among those who had never attended a primary before this year.
Turnout was also high among African-American voters. In 2004 blacks made up 47 percent of the electorate. On Saturday they were 55 percent of those at the polls. And among black voters Obama received 78 percent of the vote. Only 19 percent of African-Americans voted for
Hillary Clinton
, and only 2 percent for
John Edwards
.
This is not to say that African-American voters are opposed to Clinton. In fact, they express support for her candidacy, should she win the nomination. Overall, 77 percent of primary voters said they would be satisfied with a Clinton nomination, including 80 percent of black voters.
Among white voters, who were 43 percent of the Democratic primary electorate, 40 percent voted for Edwards and 36 percent supported Clinton. Only 24 percent of whites supported Obama.
While the race was cleanly divided along racial lines, there is evidence that the vote went beyond race. Voters in South Carolina, as in Iowa, found Obama attractive both on issues and on personal characteristics.
Issues Versus Character
Voters said candidates' positions on the issues were more important to them than were candidate characteristics - 59 percent to 39 percent respectively - but other answers seem to tell a different story. Obama won within every issue category, by roughly the same margin as he won overall. When it came to candidate qualities, however, voters made clear distinctions among the candidates.
The economy was the issue Democratic primary voters chose as the most important facing the nation, with 52 percent. The second most important issue - health care at 25 percent - trailed far behind. And only 19 percent of South Carolina's Democratic primary voters chose the war in Iraq as the country's most important issue.
Voters made virtually no differentiation among the candidates on these issues. Within each group of issue voters Obama won over 50 percent of the vote, Clinton never hit 30 percent and Edwards remained below 20 percent.
Despite voters' belief that issues mattered more to their vote than did the candidates' personal qualities, it is on personal qualities that the voters found real differences among the candidates. When asked what mattered most to them in a candidate, 54 percent of voters said they were looking for a candidate who could bring change, including 40 percent of whites and 65 percent of African-Americans.
One quarter of voters wanted a candidate who cared about them, and 14 percent wanted a candidate with experience. Nine percent wanted most a candidate who could win in November.
Not surprisingly, the candidate campaigning primarily as an agent of change - Barack Obama - easily won over voters on this characteristic. Three-quarters (75 percent) of those looking for a candidate to change things voted for Obama. Both whites and African-Americans chose Obama on this characteristic.
More HERE