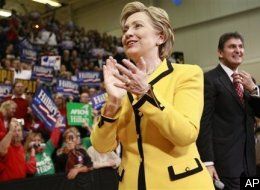 AAPP: As reported in the NY Times,
Hillary Clinton Is Facing Narrower Path to Nomination
.
It's time for the Democratic leadership and Congressional Black Caucus to urge that she
concede now.
As the NY Times article notes, Senat
or Hillary Rodham Clinton needs three breaks to wrest the Democratic presidential nomination from Senator Barack Obama in the view of her advisers.
Clinton Facing Narrower Path to Nomination
She has to defeat Mr. Obama soundly in Pennsylvania next month to buttress her argument that she holds an advantage in big general election states.
She needs to lead in the total popular vote after the primaries end in June.
And Mrs. Clinton is looking for some development to shake confidence in Mr. Obama so that superdelegates, Democratic Party leaders and elected officials who are free to decide which candidate to support overturn his lead among the pledged delegates from primaries and caucuses.
For Mrs. Clinton, all this has seemed something of a long shot since her defeats in February. But that shot seems to have grown a little longer.
There is more: Hillary Clinton a Member of Secret "Fellowship."

Check out the article by Barbara Ehrenreich in the Huffington Post on Hillary's Nasty Pastorate.
She writes, "There's a reason why Hillary Clinton has remained relatively silent during the flap over intemperate remarks by Barack Obama's former pastor, Jeremiah Wright. When it comes to unsavory religious affiliations, she's a lot more vulnerable than Obama."
You can find all about it in a widely under-read article in the September 2007 issue of Mother Jones, in which Kathryn Joyce and Jeff Sharlet reported that "through all of her years in Washington, Clinton has been an active participant in conservative Bible study and prayer circles that are part of a secretive Capitol Hill group known as the "Fellowship," aka The Family. But it won't be a secret much longer. Jeff Sharlet's shocking exposé, The Family: The Secret Fundamentalism at the Heart of American Power will be published in May.
Sean Hannity has called Obama's church a "cult," but that term applies far more aptly to Clinton's "Family," which is organized into "cells" -- their term -- and operates sex-segregated group homes for young people in northern Virginia. In 2002, writer Jeff Sharlet joined the Family's home for young men, foreswearing sex, drugs, and alcohol, and participating in endless discussions of Jesus and power. He wasn't undercover; he used his own name and admitted to being a writer. But he wasn't completely out of danger either. When he went outdoors one night to make a cell phone call, he was followed. He still gets calls from Family associates asking him to meet them in diners -- alone.
The Family's most visible activity is its blandly innocuous National Prayer Breakfast, held every February in Washington. But almost all its real work goes on behind the scenes -- knitting together international networks of rightwing leaders, most of them ostensibly Christian. In the 1940s, The Family reached out to former and not-so-former Nazis, and its fascination with that exemplary leader, Adolph Hitler, has continued, along with ties to a whole bestiary of murderous thugs. As Sharlet reported in Harper's in 2003:

During the 1960s the Family forged relationships between the U.S. government and some of the most anti-Communist (and dictatorial) elements within Africa's postcolonial leadership. The Brazilian dictator General Costa e Silva, with Family support, was overseeing regular fellowship groups for Latin American leaders, while, in Indonesia, General Suharto (whose tally of several hundred thousand "Communists" killed marks him as one of the century's most murderous dictators) was presiding over a group of fifty Indonesian legislators. During the Reagan Administration the Family helped build friendships between the U.S. government and men such as Salvadoran general Carlos Eugenios Vides Casanova, convicted by a Florida jury of the torture of thousands, and Honduran general Gustavo Alvarez Martinez, himself an evangelical minister, who was linked to both the CIA and death squads before his own demise.
More HERE